Stories
---
2022
Ladies First on IDEAT
"The fact that Milan is the world metropolis of design is perhaps not the most surprising news. But the fact that the scene there is decisively and completely determined by female protagonists should rather cause astonishment. We made the impossible possible and asked the ranks of Milan's leading designers, manufacturers, gallery owners, publicists and marketing luminaries for a joint photo shoot. In the middle of Milan, in broad daylight, wearing an elegant dressing gown.
An event of a special kind."
Thank you IDEAT for this beautiful experience.
In the cover photo:
Seated: Maria Porro, Nina Yashar, Rosita Missoni, Patrizia Moroso. Standing: Fiorella Villa, Carlotta de Bevilacqua, Raffaella Mangiarotti, Cristina Morozzi, Patricia Urquiola, Susanna Minotti, Rossana Orlandi (from left).
Here
, the full article.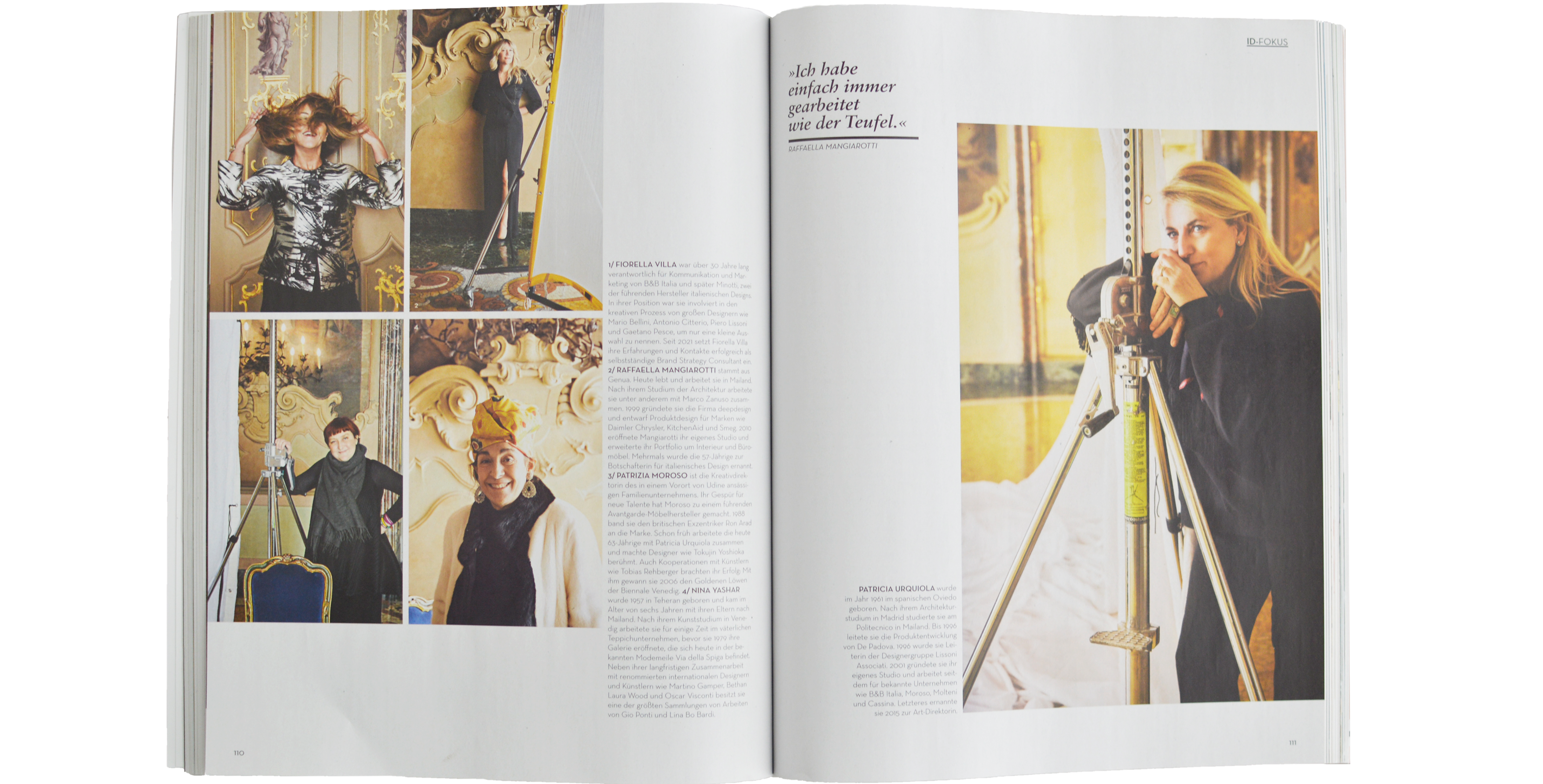 ---
2021
Christmas in the box
Pianca & Partners proposes a special showcase for the festive season:
a display designed by my studio, under the banner of colour and a different sense of discovery. "Christmas in the Box" is an invitation to search for what is hidden at first glance. Time, matter, form, function. But also desire and creation. All these elements gather in portions of meaning to reveal themselves in the micro-architectures of the Palù collection.
Here
, the full article.
---
2021
Design Wanted October
"I designed objects following my feelings".
An interesting interview by Kieron Marchese through my design career building on the history and identities of Italian brands, including my latest works.
Here
, the full article.
Milan Design Week 2021
DDN September
The permanence of aesthetics.
An interesting interview by Laura Galimberti about the studio work.
Here
, the full article.
Palù, bedside collection

Palù collection is inspired by nature, its soft and embracing shapes. The bedside table and bench give an idea of small architectures, characterized by the linear play between solids and voids.
The curvilinear nature of a sequence of wooden rods generates the space: the frame embraces suspended volumes such as the padded seat or the drawer. In the bedside table, the round drawer in regenerated leather is rotating towards the bed, becoming a second shelf.

Pepe, saddle

The idea came from looking for an informal but comfortable seat, with an essential but expressive line. The reference of the horse saddle seemed fascinating. The seat has a miter cut in the front that lets you lean forward while working at your desk and therefore relieving the back muscles. It's an object that has the immediacy of a pouf but allows for a more ergonomic posture.

ID PORTRAIT on IDEAT

In this beautiful interview, Camilla Péus talks about the studio work.
"Raffaella Mangiarotti is one of the most sought after industrial designers in Europe. She gives smart functions and a graceful appearance to home appliances and residential objects ."
Here
, the article.
ARPER, AN INTERVIEW FOR IN HOUSE MAGAZINE

An interview by Valentina Croci about the future of living and working space.
We speak about the increasingly fluidity of spaces, the openeness and the intimacy, the functions and the interaction needs.